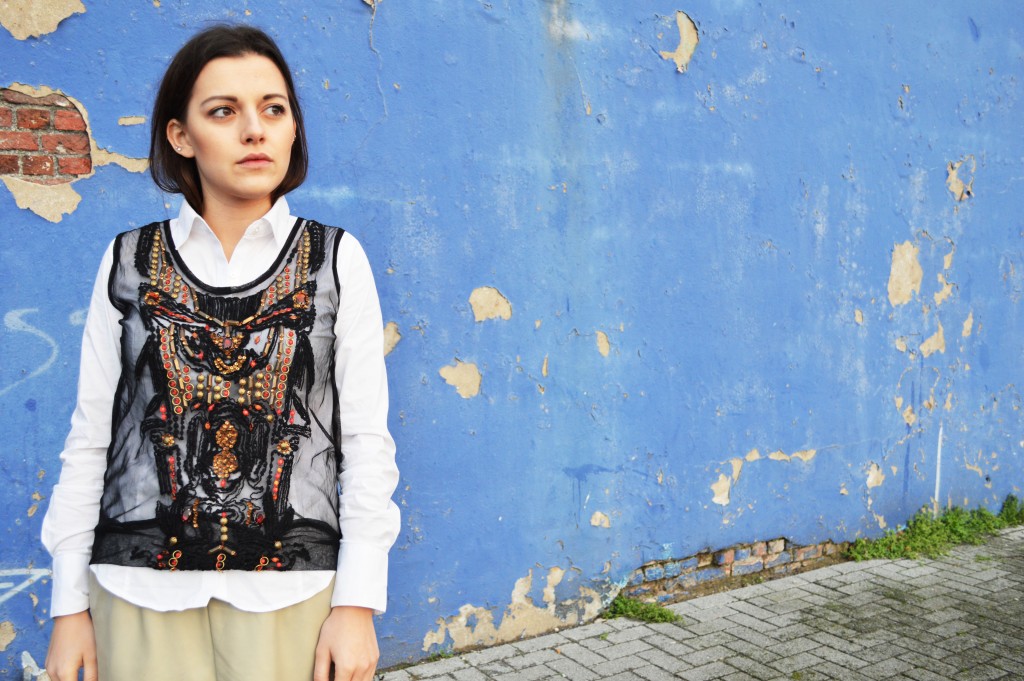 Ok the day has come that I'm posting my last not-wearing-a-coat outfit. The weather is cold ( in my world: it's freezing) and if I'm going to pose in sheer powder fabrics, I wouldn't only catch a could, I would also lose my credibility right?
Sometimes when I dig deep in my closet I always find extraordinary pieces that I seem to love for a reason but don't seem to wear for another. Neon prints, full on glitter or an over the top faux fur (just to name a few). And oh yes Embroidery. Embroidery is everything. People always seem to forget about gold, glitter and glam until it's Christmas time.
I find it very amusing that every store changes its dolls into glamour girls with the most beautiful party dresses. Funny, I thought winter was coming? Where are those warm coats and thick sweaters? I mean, there are only a couple of holidays in december where you need a proper outfit for. But what about the other cold winter days? Are people getting outside in that extreme V neck and those glitter shorts? I would loooove to see that. I little party never killed nobody, right?
As I said, besides my slight point of criticism, I find this very amusing. December is a month full of fashion hunts. Try finding an appropriate dress for Christmas Eve in which you feel sexy and feminine but that is acceptable for diner parties with the familiy. Make sure when Santa is saying HO HO HO that the room doesn't automatically turns to you. Not to mention New Years Eve. I'm pretty sure I'm not the only girl who shops a fabulous new outfit for this night who never wears it again.
I'm working on that. I want to wear glitters and gold for other occasions than Christmas or New Year. So I took a lovely  see-through blouse with astounding details and wore it under a white shirt. A big masculine-feminine contradiction (which I adore) so I did the same with the skirt. A strong manly fabric (as far as a fabric can be manly) leather, but in a skirt version.