Well this was unexpected, we (me and my boyfriend) were exploring Reus in hope to find a beautiful Spanish inspired place to shoot, when we bumped into this wall. I was blooooown away by the colours! There were almost no people in this petit street, although it is nearby the center of Reus.
After a 5975 hour drive (but not really) I decided it was time to go for a classy look again. Exploring and travelling is all about looks for me, not necessarily mine but I get really inpsired by local people and by the way they dress.
It is almost like chique equals black, although I often use colours in my outfits, there is no colour that makes a bigger statement than black. Admitting I love an one colour look, I couldn't resist adding a graphic print. Considering I'm wearing a black culotte, black shoes and a black bag every colour, print or cut is a match. Just keep in mind that if you add some colour, it wil pop. I wanted to let this shirt pop but still create a classic whole. So a black and white graphic blouse is the best option here.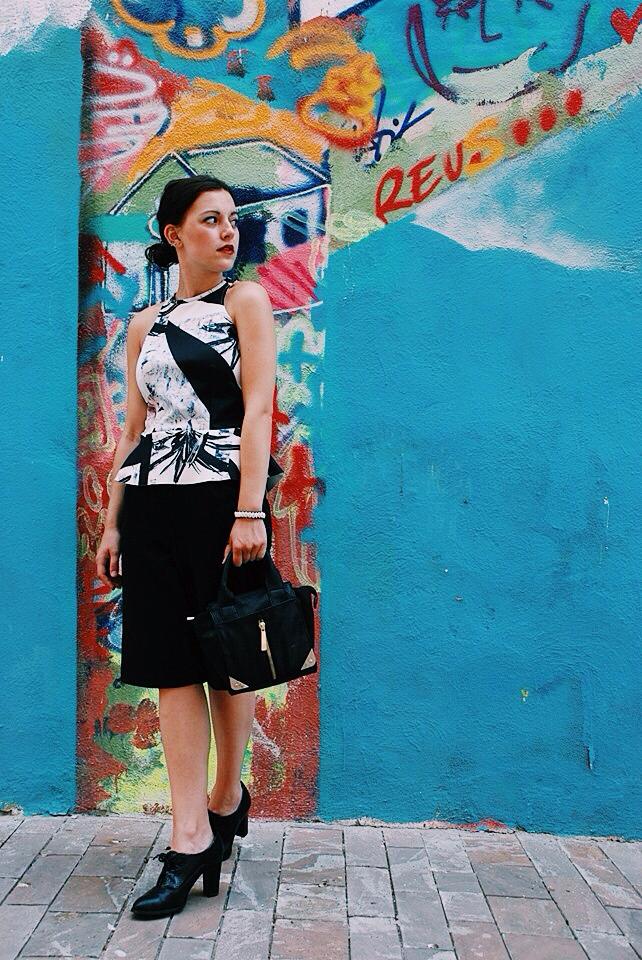 Blouse: Zara
Culotte: Asos
Shoes: Clarks
Bag: Nastygal