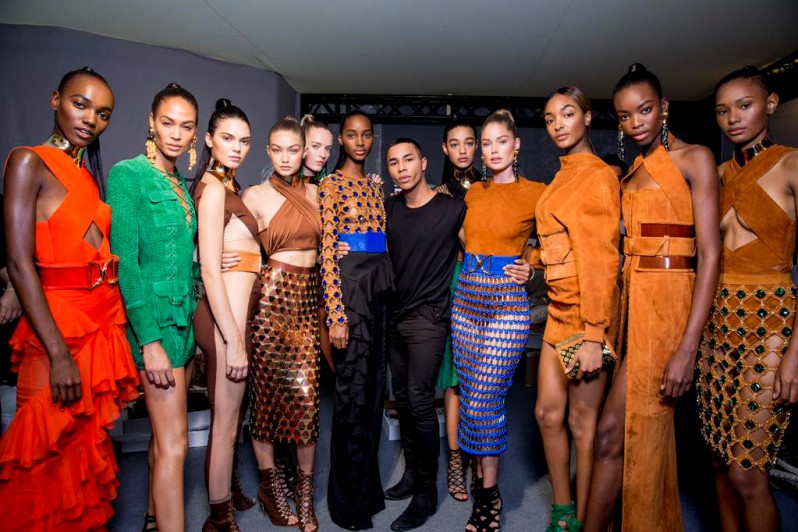 Lately everybody is obsessing over the H&M x Balmain collaboration. Yes I get it, there are some marvelous pieces and musthaves, just like there is in every other H&M collaboration.
Yet this time was different. Girls were camping outside the H&M stores and when they finally opened the doors people stormed inside like they haven't eaten for days and they were hungry, very hungry, hungry for some BalmainxH&M pieces.
Maybe marketing genious Olivier Rousteing a.k.a Balmain's designer has something to do with it? Not only did he teased us with previews of the collection, he let Kendall and Gigi (along with other big celebrities), step out in his creations. The marketing stunt had everybody druling and forgetting about the priced items in this collection.
But the collection really looks like his 'real' collection and those pieces cost over a thousand euros,right? Right. That's probably another reason for its big succes. The similarity between the H&M collaboration and his previous collections is obvious. But don't forget you are still buying a H&M piece (and there is nothing wrong with that), not a Balmain garment.
None the less, let's forget the BalmainMadness and take a look at what Mister Rousteing has accomplished over the past few years.
Here is the real deal.
Spring 2016
Fall 2015
Spring 2015
Fall 2014
Spring 2014
Fall 2013
Spring 2013
Fall 2012